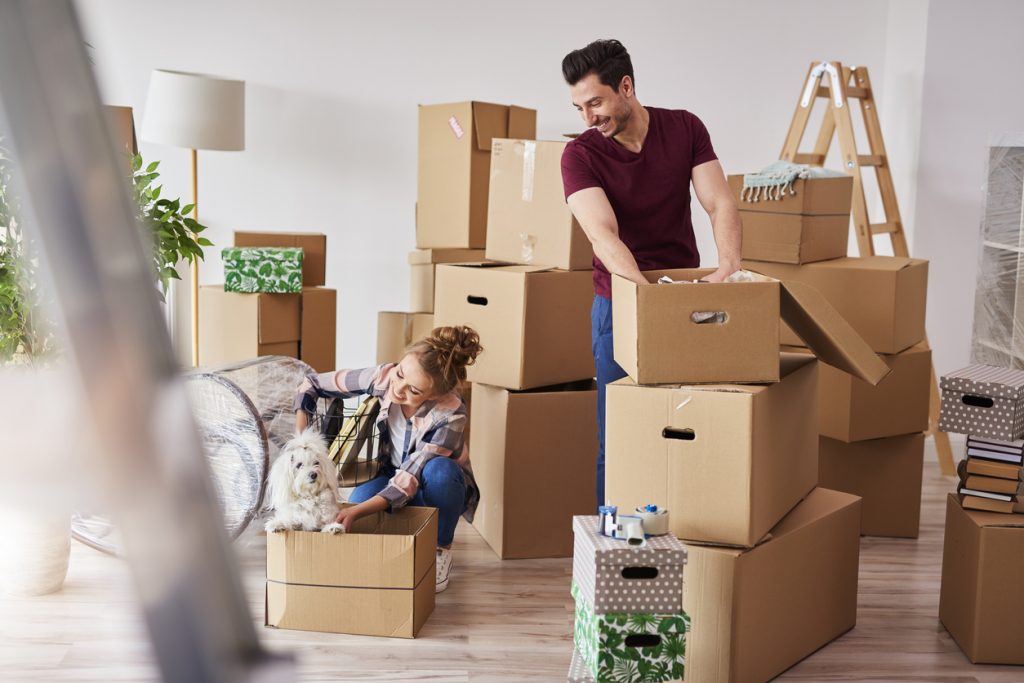 Guest Post by: Penny Martin
Looking for a home can often feel an overwhelmingly exhausting experience. As a pet owner, however, you have an additional responsibility that could add to your workload. Thankfully, with a little planning, you can make your moving experience run smoothly.
Picking the Perfect House
Our companions are an important part of our lives, and their happiness is vital to us. To ensure they stay safe and content, we must consider them when looking for a home. Of course, you'll want a community that is accepting of pets, so look for features like dog parks, vets, and pet supply stores to guide your choices; the more there are, the more likely it will be a pet-friendly place. As an added precaution, check local laws regarding pets, particularly breed limits. Once you've done your research, you can start looking for a house to fulfill your needs and those of your pet. For instance, an animal with short legs or one who is getting on in years may need a single-story home. In contrast, a larger dog might require a big yard and plenty of room to play. What's more, you may need to install a fence to keep them safe and secure, which could add another $1,641 to $3,972 to your expenses. At the end of the day, however, It's up to you to decide what will serve your companion best.
Moving with a Pet
One of the most difficult aspects of moving with a pet is the process of getting them to their new home. Thankfully, dogs can be crated, given toys and snacks to calm them, and taken out for breaks to help tire them out. Yet, other pets, such as birds, can be more difficult and could make travel by plane potentially challenging. First, you need to find an airline that will accept them, and then you should ensure you have the right cage. Then, you must supply them with enough food, water, and comforting objects to keep them calm during the trip. If possible, travel by car so that you can use a familiar cage, take breaks, and limit their overall stress.
Make Moving Day Easy
Moving day is going to be stressful regardless, but you can make it easier by keeping your pet safe. After all, we cannot explain to them why strangers are inside their home, and movers cannot haul stuff out in silence. So, to let you focus on the move, as well as to minimize your pet's stress, consider having a friend take them away for the day. Otherwise, you could hire a pet sitter — yes, even for a bird. If you don't know where to find one, your vet may have a list of reliable organizations or individuals to check out. However, do meet them first, ensure they know first aid, and have the right temperament so you feel confident on the big day.
Introducing Your Pet to the Neighborhood
For most animals, such as cats and birds, they'll only need to get used to an unfamiliar home. Yet, dogs will need an introduction to their new surroundings. Take it slowly by first showing them around the neighborhood before branching out farther. As you go, always keep them on a strong lead, even if there are no leash laws in your city. Not only will your pup stay safe from traffic and other dogs, but a leash prevents them from bolting and becoming lost in strange surroundings. If you're still using the same old leash you've had for years, now's a perfect time to get a new one (you can find great leashes at Chewy starting at around $6.25)
Helping Them Adjust to Changes
Pets often have a difficult time handling change, so the best thing you can do is to shield them from the unpacking process. Indeed, birds, in particular, can become extremely agitated from seeing lots of activity, as they tend to thrive in quiet and peaceful environments. Given this, look for somewhere away from the noise and chaos, and avoid anywhere with a window. Whether you have a pug or a parakeet, make sure their private space has all their favorite toys, and don't hold back on treats to keep them in good spirits.
Don't end up with a home that doesn't suit your entire family, including your pets. Do a little digging into your new community, prepare for moving day, and help your companion adjust to their new surroundings. After all, this should be something to celebrate!